See the Vikings at Kongernes Jelling. With a Be Happy Pass
Take a walk in the past
Enter the world of the Vikings.
Get up close to the mighty Viking Kings and their magnificent monuments that they built to show off their wealth.
If you have a free Be Happy Pass
Show your Be Happy Pass in our Welcome area. Get a badge and the booklet, Haralds Secret Writings, with fun things to do.
About Kongernes Jelling
Harald Bluetooth describes himself as "that Harald who won all of Denmark and Norway and made the Danes Christian". He did this on the largest rune stone in the world - a 10-tonne stone. Or about the same weight as a large male and female elephant. Combined.
Jelling is home to "Denmark's birth certificate". This is where the country got its name. This is where the first king made his appearance. And it is here that we replaced Odin, Thor, Freyja, giants and wolves with Christ. The old gods weren't immediately forgotten. But the new kingdom brought immense change to the country.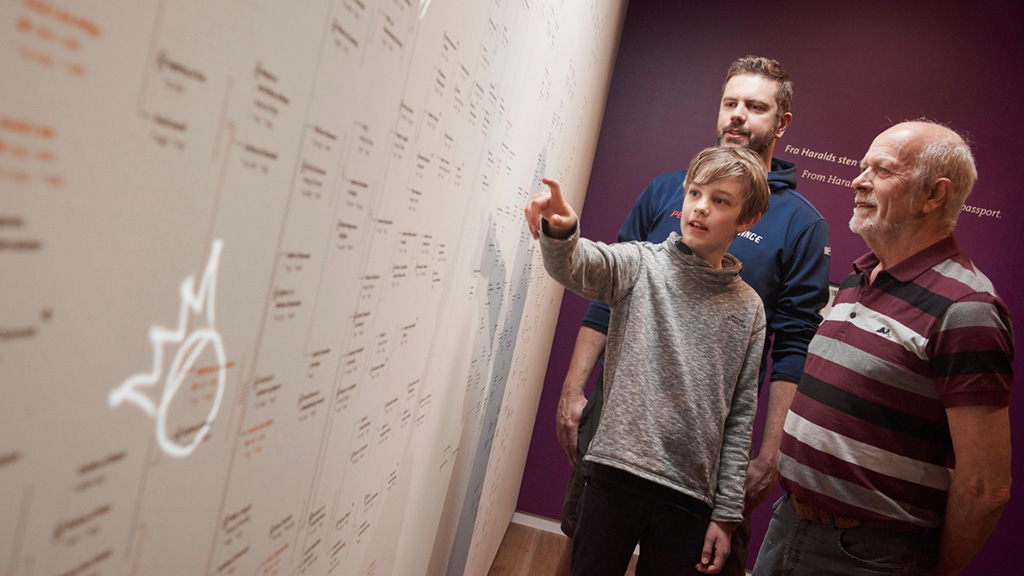 © Kongernes Jelling. Photo: Lasse Hyldager
Harald the Warrior King
Harald was a king with great power, which he liked to boast about. That includes the large monument square you can see in Jelling. It was once surrounded by a mighty palisade of heavy oak planks and is the largest building known from the Viking Age. The site is also home to the world's largest stone ship. Here Harald received distinguished guests and displayed his enormous strength.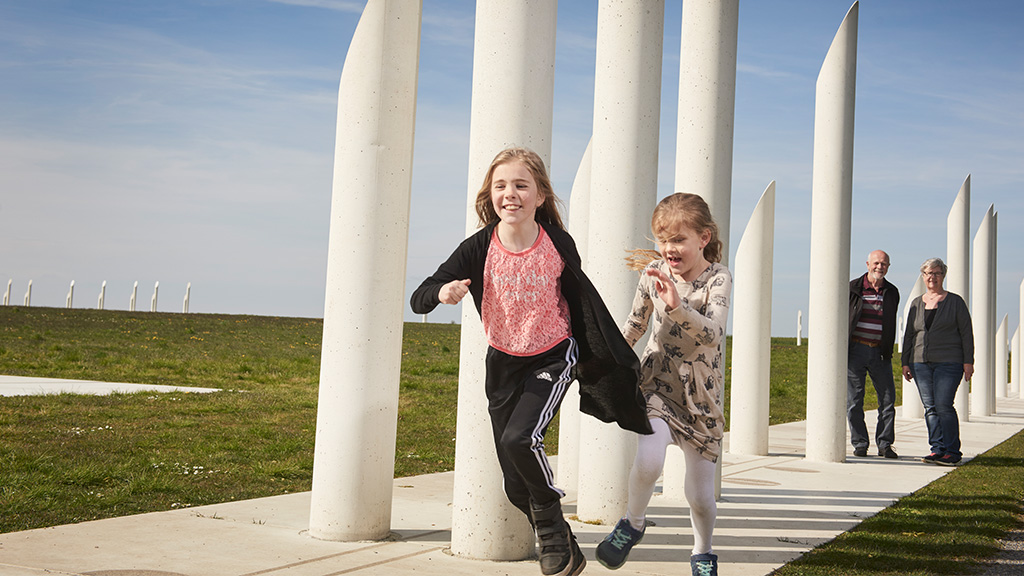 © Kongernes Jelling. Photo: Lasse Hyldager
Can you run around the monument square?
The white stone posts mark where the palisade was erected more than 1,000 years ago. It's 1,440 metres all the way around. That area could accommodate 20 football pitches. Now the area includes two giant mounds, two large rune stones, the remains of the huge stone ship and a Christian church. And the entire area is now a UNESCO World Heritage Site.
Visit the exhibition at the museum and learn more about the Viking kings Gorm and Harald and what daily life was like for the Vikings. The award-winning exhibition has free admission and offers a unique experience for children and adults alike.
Get a free Be Happy Pass here
You'll get a free Be Happy Pass for you and your family when you stay with one of our Preferred Partners
Get cool Adventure Badges for your pass
Take it along with you to the places you find in the pass. When you get there, show them your pass and collect your badge. Many places even have extra offers. You can see all the attractions here.
THE LEGO® MOVIE 2™ © & ™. Warner Bros. Entertainment Inc., & The LEGO Group. LEGO, the LEGO logo, the Minifigure and the Brick and Knob configurations and LEGOLAND are trademarks and/or copyrights of the LEGO Group. ©2023 The LEGO Group. All rights reserved
Opdateret af:
Destination Trekantområdet info@tdto.dk

See the Vikings at Kongernes Jelling. With a Be Happy Pass

Gormsgade 23




7300

Jelling